2020 Vision
New Year, Same You, Better Everything Else
Welcome to 2020, Lunettes! I've been really terrible about sending out newsletters over, oh, the whole of my career, so I'm trying something a bit different: relaunching the newsletter using the concept of Girls With Glasses, the website run by my kick-ass nerd heroine Reggie Hobbs in Can't Escape Love. I'm doing this in January, but it's not a resolution to be better at newsletters—in this ADHD house, resolutions usually lead to nothing but disappointment so they're not allowed in. But even though I'm no longer interested in trying to turn into a whole new person just because the year changed doesn't mean I'm not down to try something different, so here we are. I realized that several ideas that had been germinating separately for months or years could all fit under the Girls With Glasses umbrella.

Every two weeks (maybe more! maybe less!) you'll get a hodgepodge of:
book squee

interviews with amazing authors and other interesting people

cool things to listen to (including meditations for writers, made by me!)

discussion threads

cool things I think you'll like

occasional short stories featuring past characters

lots more!
I hope you'll enjoy it!
[Feel free to unsubscribe if you're like "Um, I didn't sign up for all that," lol. I get it.]
---
---
Word of the Year: Why?
This whole "choosing a word for your year" thing is new to me, and I usually ignore it because I stress myself out trying to find the perfect word. But I think I've actually settled on one this year: Why? (That's it. That's the word.)
Personally, it's the question always running in the back of my head, for good or for ill. Why can't I get any writing done? Why does Mr. Cole have a chicken on his head? Why can't I do anything right? or Ooo this is fun, why didn't I try it before?
I'm choosing "why?" because it's the first building block of every story we create for ourselves to understand the world around us and our place in it.  Because it's a question, and it demands an answer. And no matter the circumstances, we can work on choosing answers that lead our story toward a satisfaction and fulfillment.
No matter what your own personal "word" of the year is, or whether you bother to make one, sit for a second and ask yourself "Why?" 2020 will be a good year for you. Then answer the question.  I give you permission to cheat—if the voice in your head answers all your "whys" with negatives (because I know mine sure does when it's feeling ornery), hit back with a "why not?"
Wishing you all a year of both asking and answering.

---
2019 Recommended Reads
Yes, most best of lists were published in like November, but that seems a bit hasty to me, especially since at least two of the books on my personal list didn't come out until Dec. 31st! I'll get to the books I'm looking forward to this year in the next newsletter, but let's celebrate some of the best 2019 books first! From werewolves to time travel to kick-ass historical people to modern day love in all it's varieties, here are a few 2019 books you should be sure to add to your TBR (or check out/request from your local library!)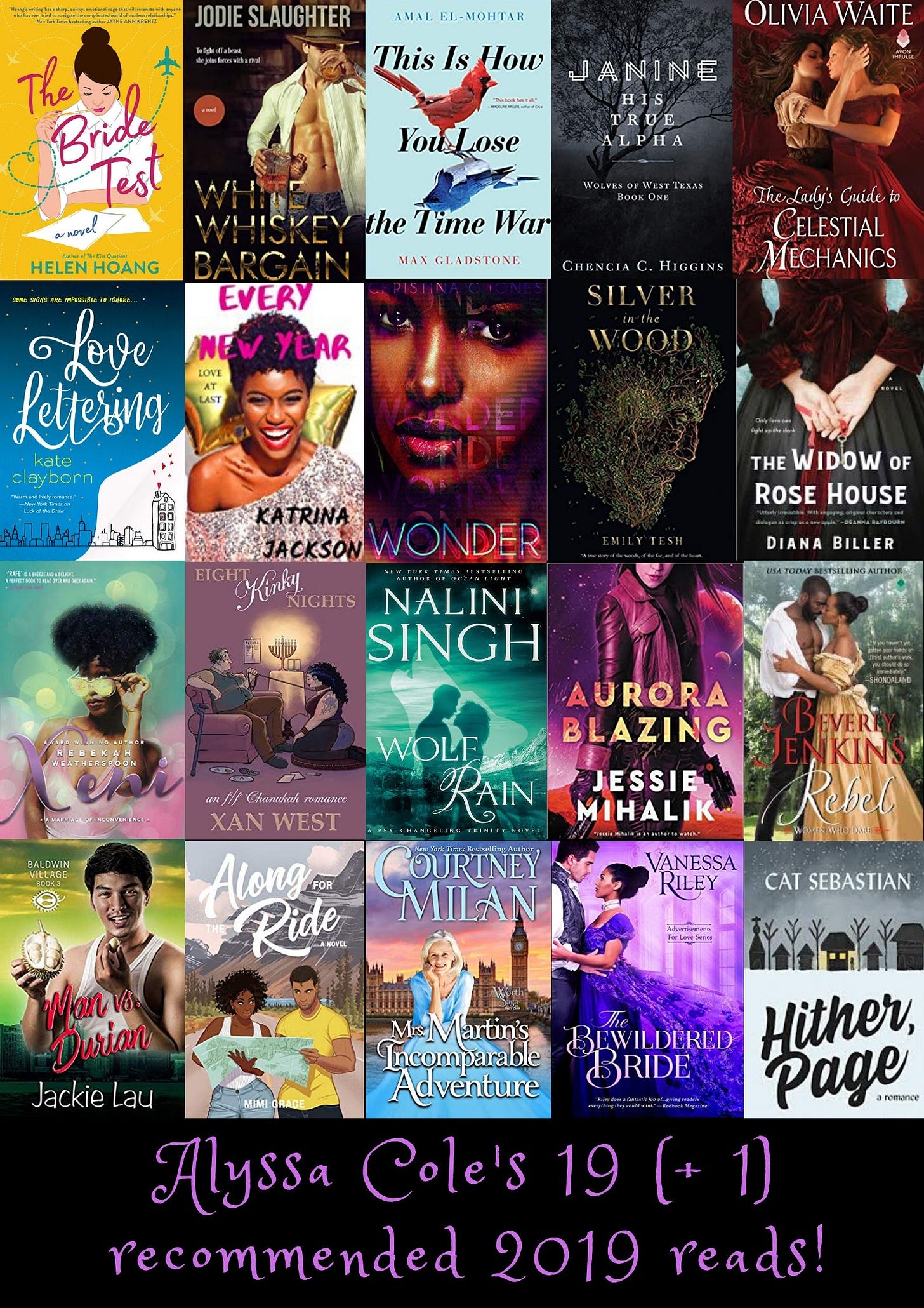 Contemporary Romance
The Bride Test, Helen Hoang | Love Lettering, Kate Clayborn | Xeni, Rebekah Weatherspoon | Man vs Durian, Jackie Lau | White Whiskey Bargain, Jodie Slaughter | Every New Year, Katrina Jackson | Eight Kinky Nights, Xan West | Along for the Ride, Mimi Grace
Sci-Fi/Paranormal Romance
This Is How You Lose The Time War, Amal El-Mohtar and Max Gladstone | Wonder, Christina C. Jones | Wolf Rain, Nalini Singh | Janine: His True Alpha, Chencia C. Higgins | Aurora Blazing, Jessie Mihalik
Historical Romance
Mrs. Martin's Incomparable Adventure, Courtney Milan | The Bewildered Bride, Vanessa Riley | The Lady's Guide to Celestial Mechanics, Olivia Waite | The Widow of Rose House, Diana Biller | Rebel, Beverly Jenkins | Hither, Page, Cat Sebastian
---
O.M.G.!
Okay, I still haven't recovered from this. My latest release is the sci-fi rom-com thriller, The AI Who Loved Me, and it was narrated by the amazingly talented cast of Regina Hall (REGINA HALL), Mindy Kaling (MINDY KALING), Feodor Chin, among others! Everyone on the multicast recording did such an amazing job, and below you can catch a Behind the Scenes with Regina Hall! If you want to know more about how I wrote this book with an audio-first audience in mind, check out this brief interview I did with Bookish. (And yes, the book will eventually be available in Print and e-book!)
---
Listen Up
Audio treats to keep you company during your commute, cleaning, or chill time:
#romanceclass podcast, season 3, is reading Ana Tejano's contemporary romance, Keeping the Faith! You can get your audiobook fix here.

I joined Sarah Wendell at Smart Podcast, Trashy Books to talk about everything from burnout to dystopias, and also my latest release, the AI Who Loved Me!

I wouldn't say I'm obsessed with Mr. Rogers, but like many people my age, I have a deep attachment to his brand of kindness, especially while navigating the constant garbagefire of our world, so of course I'd be into the 10-part series Finding Fred.

Alex De Campi's Anime Bangers Playlist. Check it out for some anime bangers.
---
Anime!!! Love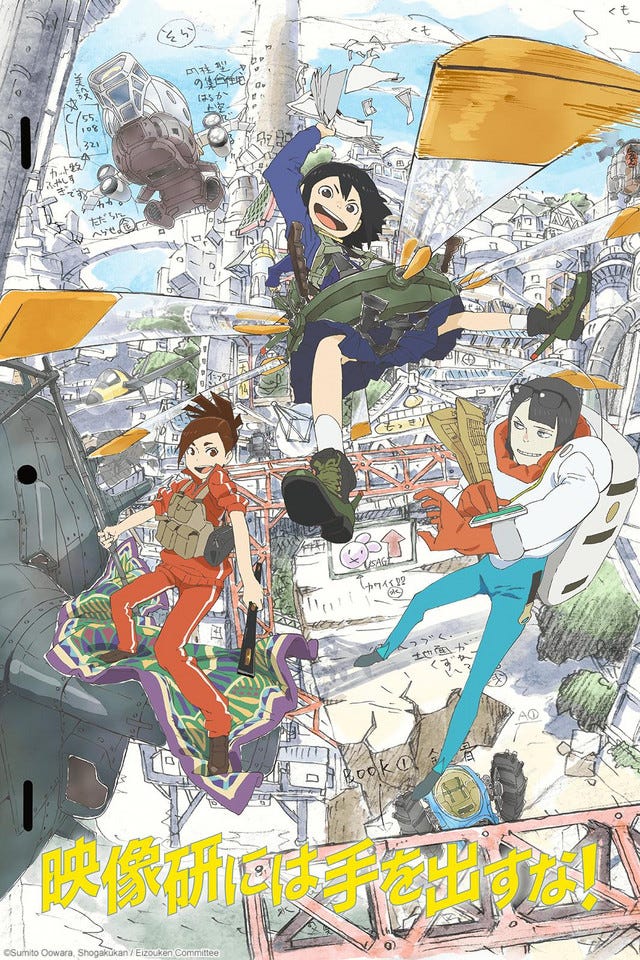 Keep your Hands Off Eizouken! just premiered this week but I loved the first episode so much! The overall concept is three girls coming together to start an animation club at their high school, and the first episode alone really made my creative heart want to burst! It's so visually interesting that I'm sure I'll watch several times over just to catch everything going on, and I'm truly a sucker for anything that involves people coming together to help each other achieve their dreams—and love letter to the power of imagination! It's also seems like it'll be a deep dive into how anime comes together. So many nerdy aspects to love! Recommended for anime lovers, people who enjoy friendship stories, and those looking to free their creative wells. You can watch it on Crunchyroll.
If you're looking for something that provides similar heart-full feels that's already complete check out these two films: Whisper of the Heart (friendship, romance, working toward a creative goal, power of the imagination) and Mirai (the power of imagination, sibling relationship).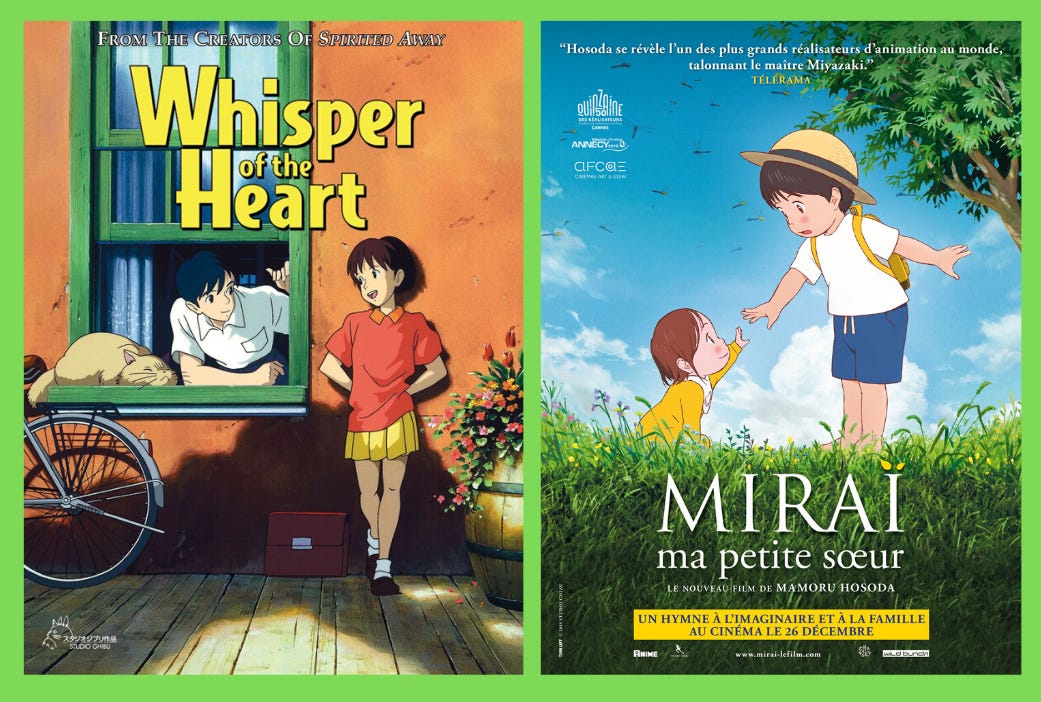 This upcoming cartoon also looks great, and like something Lunettes would be into! Check out Kipo and the Age of Wonderbeasts!
---
Short Stories
Need something quick and satisfying? I'll occasionally be posting shorts where we catch up with characters from my books, but I'll also be sharing quick reads that I love! Check out these two fantastic spec fic short stories.
Marika Bailey's Seed Vault in Strange Horizon.
There are many gods and few. They mix and re-form and come apart like particles of oil in water. They have always been around. In the village most could only see them as rags of light and sound, out of the corner of your eyes. Some never see them at all. Like Manman. Like me. I had not seen them until the morning I woke up at Titi Jeanne's side with smoke burning tracks of tears from my eyes.
Lydia San Andres's To Follow Her Home.
The sun was bright. It touched the palm trees swaying in the wind and gilded the crests of the waves rising and breaking against the rocks beneath us. Elena, Paulina and I sat together on the wrought iron bench, Ada across from us.

Everything was as it usually was—except that Ada was dead.
---
Randomness Roundup

Just pretend I'm that Ravenclaw friend who spams you with a hundred links about fifty unrelated subjects in our chat while you're busy making lunch. (This is mostly pretend because I'm actually a Hufflegruff.)
The best public proposal ever!!
The Hausa Romance Writers of Nigeria. A few years ago when I was doing my Romancing the Globe series (which I'll be starting again in this very newsletter), I got to speak to some of the Hausa romance writers. I wanted to speak to them because there had been several news stories featuring photos of them, but no one had actually asked the women themselves about their work. This is a great piece covering the writers, their background, and their work (and here is an older Smart Podcast, Trashy Books where I discuss the Romancing the Globe column).
---
When In Doubt, Support Your Local Library!
Each newsletter, I'll try to feature a library/librarian that shows romance love. First up? Dayton Metro Library, who recently shared this fantastic video review of An Extraordinary Union! Be sure to follow them on Twitter!

---
Sale
Radio Silence, the first book in my spec fic romance series, Off the Grid, is currently on sale for $1.99!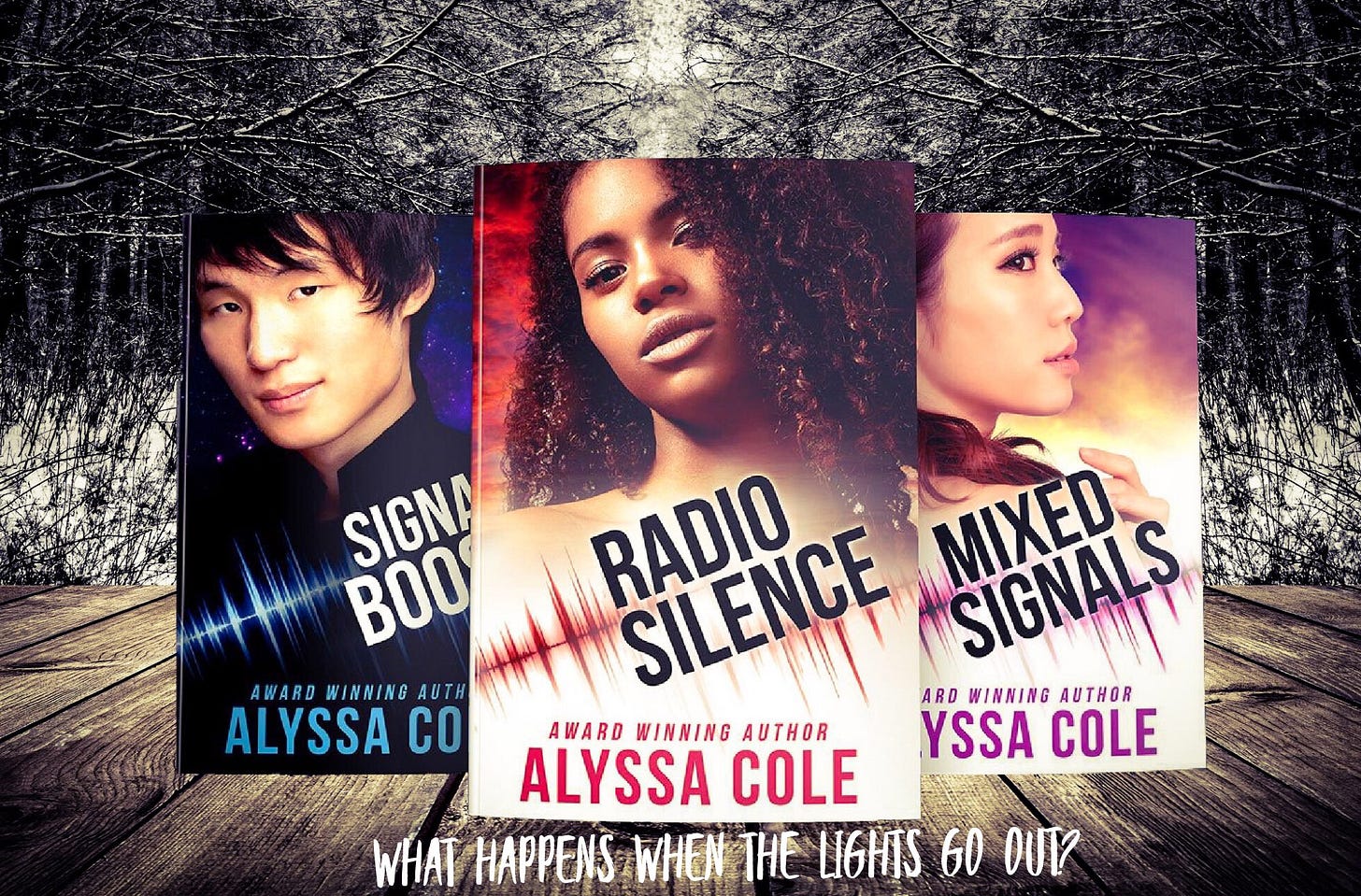 ---
Capybara Corner
Sending you off with the soothing cuteness of a capybara hopping into a warm bath. May you all have a similar moment of relaxation when you need it.